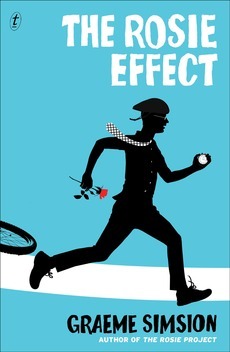 Grade: C-
Hotness Level: Ember
Kink Level: No Kink
Genre: Contemporary
Series: Don Tillman #2
Published: 12/30/14
Reviewed by Anne
287 ebook pages
I loved The Rosie Project. It was one of my favorite reads last year and one I've mentioned to friends off and on. It was funny and sweet and romantic.   When I saw that The Rosie Project was coming out, I jumped at the chance to read an ARC of it from NetGalley.  It was a disappointing read for me, mostly because I was expecting something funny, romantic, and sweet.  So, in an effort to present an honest review, I'm just going to use the back cover blurb for the book to explain what it's about:
THE ROSIE PROJECT WAS COMPLETE BUT I WAS UNPREPARED FOR THE ROSIE EFFECT.

GREETINGS. My name is Don Tillman. I am forty-one years old. I have been married to Rosie Jarman, world's most perfect woman, for ten months and ten days.

Marriage added significant complexity to my life. When we relocated to New York City, Rosie brought three maximum-size suitcases. We abandoned the Standardised Meal System and agreed that sex should not be scheduled in advance.

Then Rosie told me we had 'something to celebrate', and I was faced with a challenge even greater than finding a partner.

I have attempted to follow traditional protocols and have sourced advice from all six of my friends, plus a therapist and the internet.

The result has been a web of deceit. I am now in danger of prosecution, deportation and professional disgrace.

And of losing Rosie forever.
To me this blurb read like a marriage-in-trouble romance.  As it turns out, The Rosie Effect is not a romance. It was funny in places, but more sad than sweet. I've read marriage-in-trouble romances before and enjoyed them, because the focus in fixing the marriage and things getting better. For about 90% of this book things just get worse and worse. It's painful to read, even though there are many funny parts.
Don's friend Gene is back and I hate him even more than in the last book. There's an evil social worker I couldn't stand and very, very little interaction between Don and Rosie.  Seriously, Don and Rosie don't have a whole lot of on page time together.  A lot of their problems would have been resolved if they'd been honest with each other or even just talked a bit more.  Instead, Don had several people giving him advice that he keep things from Rosie in the name of not adding to her stress level.
It was good as fiction, but it sucked as a romance.  As just general fiction I'd give it a B, but for romance I give it a D.  I'll average those to a C- or 3 stars.   Giving this such a low grade is sad, because The Rosie Project was such an incredibly good book.  Is there a series that went off the rails for you with the second book?