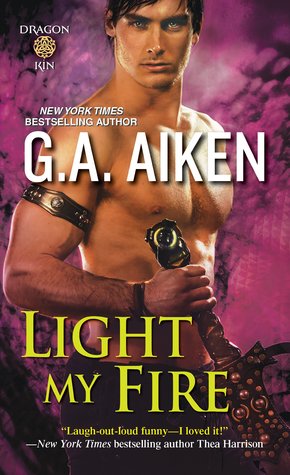 Grade: B
Hotness Level: Blaze
Kink Level: No Kink
Genre: Paranormal, Shifter, Dragons
Series: Dragon Kin #7
Published: 11/25/14
Reviewed by Anne
483 pages
This is why you need to be reading the dragon books by G.A. Aiken:
"You best go to him, sister, and soothe his hurt feelings."

"Why should I?"

"You know how men are.  If you treat them nice and buy them gifts, they will suck your pussy like a champion."

"Well, when you put it like that…"
Seriously, no one does over the top humor like Aiken.  When I need to read a foulmouthed book full of equal parts violence and humor along with some hot sex, the Dragon Kin series is the place to go.  I've got kids, and I'm a pretty polite person, but it's such a wonderful release to read about these dragon shifters and their mates!
Elina is not unforgettable.  In fact, the Daughter of the Steppes is all too forgettable to Celyn the Charming.  He deposits her in the local jail in the name of keeping her safe and promptly forgets her.  Thankfully she's still safe there months later when the queen requests to see her.  Events force the human (Elina) and the dragon shifter (Celyn) together and Celyn is shocked that Elina isn't falling for his charm.  He's pretty amazed by her self confidence, ferocity, and willingness to use him for sex.  For her part, Elina finds Celyn annoying and far to talkative, but quite convenient for sex.
There's a culture clash between Elina and Celyn that is quite interesting and entertaining.  In Elina's homeland, women are the warriors and worthy warriors marry and keep multiple husbands who tend to household and raise the children.  She's only heard rumors about dragons before.  Elina's life has been hard, and she's amazed at the life of laziness and luxury she finds in Celyn's country.  This made for some nice and humorous conflict between the two of them.
Full, disclaimer, this book is more on the sci fi side than it is romance.  There are quite a few pages devoted to politics and a story arc running through the series.  There are a lot of characters – you need to engage your brain to keep track of them all.  I still loved it!
With all of the characters, I think this book would work best read in order in the series.  That said, I skipped two books and read this one and did ok.  I think the book is must read for people who have enjoyed the series so far.  If it sounds interesting, you can start with Dragon, Actually.  I highly recommend the series.