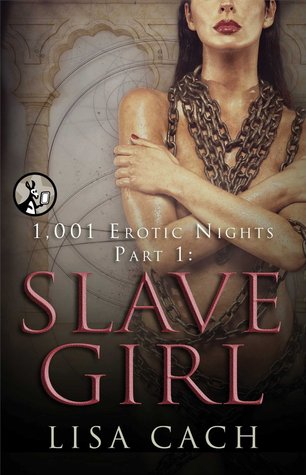 Grade: D-
Hotness Level: Inferno
Kink Level: Mild Kink
Genre: Sci-Fi/Fantasy
Series: 1,001 Erotic Nights #1
Published: 7/28/14
Reviewed by Kate
90 pages
Nimia has been Sygarius's slave for 9 years now.  No one is allowed to touch her and she's not allowed to do any hard labor.  Sygarius, a Roman leader, is training her to become his concubine when she becomes a woman.  And that time is drawing closer.  Nimia is looking forward to the time she will finally be able to use all of her training, until she spots Clovis.  Clovis is the son of the king of Franks and has come to Sygarius's along with his father for discussions.  When he spots Nimia, they are drawn to one another.  But she is Sygarius's alone, or is she?
The writing in this one keeps you turning the pages.  There are politics aplenty that keep you guessing what comes next.  Being told only from Nimia's point of view, the reader is kept clueless as the events unfold.  We are left wondering at the true intentions of Sygarius and Clovis.
Sygarius's obsession with Nimia is borderline disturbing.  Borderline, simply because she is his slave and in this world that appears to be acceptable.  And the fact that he is saving her for himself almost makes him her savior.  Clovis is instantly drawn to her, yet approaches her without regard to the effects it may have on her life in Sygarius's household.
As for romance in this one, I'm going to say that there's not really any.  There are relationships with both Sygarius and Clovis, although there appears to be no feelings from either (other than possession).  Nimia herself doesn't really seem to have feelings for either of them.    Fair warning:  this one is filled with swords, branches, and rods.  As well as flowers, petals, scabbards, and cunny (gak-that's my least favorite ever).  So although it is extremely descriptive, I found myself chuckling at times.
Sadly, this one didn't work for me on many levels.  Maybe it was all the "cunny" references.  Or perhaps her initiation rite.  Yep.  Probably the initiation is when I decided I was done.  It is the first one of a serial so perhaps there is hope.  If you like your heroine with multiple partners and like politics, this one might be worth a shot, but I wouldn't recommend it to anyone looking for a more standard boy-meets-girl-and-instantly-falls-in-love romance.
So the word cunny is going on my list of descriptors I never want to read again.  Along with the combination of sword and scabbard.  How about you?  What are the words that you never want to read in a sex scene?