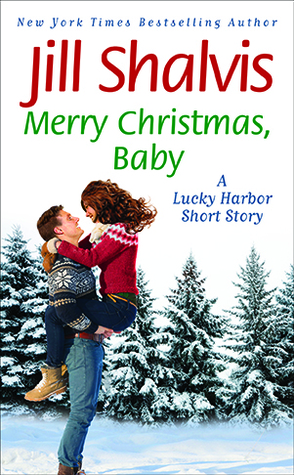 Grade: A
Hotness Level: Ember
Kink Level: No Kink
Genre: Contemporary , small town
Series: Lucky Harbor #12.5
Published: 12/2/14
Reviewed by Anne
43 ebook pages
The first Jill Shalvis stories I read were some Christmas novellas of hers that were in anthologies I got from my library.  I really liked them, so reading a Shalvis Christmas novella that is an epilogue to one of my favorite books?  It's a no brainer!
This novella gives us a peak at Sawyer, the sheriff and his wife, Chloe, now expecting their first baby.   It's got peaks at many of the characters from the series, but especially Chloe's sisters and their husbands from the first books.
Sawyer and Chloe have a disagreement about Chloe attending the town Christmas party just before Sawyer heads out on an extra assignment.  He doesn't want her to go, due to the advanced stage of her pregnancy and her medical complications.  She, of course, is plotting to attend.  She feels like he's wanting to get away from her and her pregnancy based mood swings and she just wants to do what she wants to do.
Of course nothing goes as planned and hilarity ensues.  It's a must read for fans of the Lucky Harbor Series.  The only thing I didn't like about the story is that after all that drama and comedy… they don't tell you what they name the baby!  I'll forgive it because I love the rest of the story, but it is driving me a bit crazy.  Is there anyone that's read anything anywhere on the web about it?