I went through my reading log and picked my favorite books of 2014. These are the books I read in 2014, not necessarily published in 2014.   I'll rank my top ten and add commentary below, but first here are some honorable mentions:
Honorable Mentions – books that stood out in my memory
Most Unexpected Book
How to Train Your Dom in 5 Easy Steps by Josephine Myles – This book is a romance, a comedy, set in England, m/m, and BDSM.  And all of that works together surprisingly well! It's about a clueless man, Jeff, who wants to be a Dom but can't find a woman willing to work with him.  A mutual friend sets him up with a Eddie, a man willing to help Jeff learn the ropes.  Jeff's always thought of himself as straight, but he's pretty desperate, so he agrees to work with Eddie.  He's totally surprised to find himself enjoying his session on many levels.
Most Interesting

Static by L.A. Witt – This sci-fi romance is set in an alternate world where some people are able to shift genders much like we read about werewolf and other animal shifters.  It's an unusual ability and not totally accepted by the general population.  Damon didn't know his girlfriend Alex was able to shift until her parents forced an unwanted procedure on her that left her static – in her male form and unable to shift any more.  This book made me think a lot about gender and what it means.  It was also a great romance.
Best Anthology
Marked by Lauren Dane, Vivian Arend, and Kit Rocha – It's rare to find an anthology where I genuinely like all the stories included in it, but that's what happened here.  It's got stand alone stories from Rocha's Beyond series (dystopian m/f), the start of Arend's Thompson & Sons series (contemporary m/f), and the first entry in Dane's Metamorphisis world, (upbeat dystopian m/m/f).
Most Realistic Damaged Character
More Than Anything by T.T. Kove – I loved this story of an epileptic college aged student falling in love with a janitor at his school.  The janitor is dealing with some really awful trauma from earlier in his life and it's not an easy road.  They take care of each other and care about each other.  It was sweet and I loved it, but what I loved most was how realistically the characters' epilepsy and trauma were handled.  There was no magic pill or solution, but there was a lot of love and understanding.  On top of everything else, it's set in Norway, which was interesting to read about.
Favorite Author
Looking at my favorite books of the year, Heidi Cullinan has the most titles on the list and never disappointed.  This year alone I read six stories she wrote: Love Lessons, Fever Pitch, Frozen Heart, Let It Snow, Sleigh Ride, and Dance With Me.  They all got A or B reviews.  She's got a huge backlist for me to catch up on, too, and I can't wait!  I declare her my Favorite Author of 2014!
Favorite Genre
Contemporary m/m romance was my Go-To genre this year.  I still like my paranormals, my m/f contemporary, menages, urban fantasy, steampunk and even a historical or mystery now and then, but m/m was the most popular genre in my Best of 2014 list – twelve of the twenty-eight books I tagged were m/m!
Unexpected Genre I Liked in 2014
As I looked back on my list of Best of 2014 books, I was shocked to see that so many of them (seven of the twenty-eight) were books that could fall under the Young Adult or New Adult label.  My book club friends would tell you that I've shied away from these books about younger characters.  In fact, I didn't even make YA or NA shelves on my Goodreads – I just called one "college aged".  But seven books in that category that were on my best of list?  I was very surpised!  I guess I have to admit I don't dislike the genre as a whole, but that I'm careful about what I pick up.
And that brings us to this my Best Books of 2014.  I wanted to narrow it to 10, but I couldn't make the cut and have 11 on my list:
This one is a YA set in the 80s and I was captivated. I listened to it on audio and I didn't want to stop. There's a story of child abuse and neglect along with the budding romance.  It was heart wrenching and it's left me hesitant to read more Rowell, but I loved it.
This book was one of the funniest books I read all year. It follows Don Tillman, a very Sheldon-esque character (if you watch the Big Bang Theory) when he decides that his life would be improved by taking a wife.  It's funny and sweet and romantic.  (It's worth a note that the sequel to this book, The Rosie Effect, comes out 12/30/14 and I didn't like it at all.  I'm not a fan of putting my favorite characters through the ringer again, and Don and Rosie spent way too much time unhappy before solving their problems.  So, my advice would be to stick to the first book.)
Then Came You by Jill Shalvis (Animal Magnetism #5)
Shalvis' books are always dependably sweet and funny, but they had started to run together for me. Then I picked up Then Came You and I fell in love with Shalvis all over again! A rookie veterinarian serving her post-scholarship year at a rural vet clinic is falling for her supervisor and she doesn't quite know what to do about it.  Well, actually, she knows exactly what to do about it, she just doesn't know how to fit it into the life plan she's created for herself.  It's an awesome story!
Tigerland by Sean Kennedy (Tigers and Devils #2)
I read Tigers and Devils in 2012 and it's one of my all time favorite books. I knew when I read it back then that it had a sequel. I even went and bought the sequel, but I also knew that the sequel was about the same couple as the first book.  I loved Simon and Declan so much that I didn't want to read a sequel that might have them going through rough times.  I shouldn't have worried – Sean Kennedy did a great job with this sequel, and I loved it.  I do think you need to read these books in order, so check out Tigers and Devils, too, if you haven't read it yet!
Sarah Mayberry is one of my favorite writers and she knocks it out of the park with this story about two people who just can't seem to meet each other at the right time. They both struggle to come out from under their families' low expectations of them. They also have to overcome the awkwardness of a one night stand years ago and deal with the baby Seth's ex-girlfriend is expecting – his baby.  You wouldn't think this would make for a great romance, but it does!
Sleigh Ride by Heidi Cullinan (Minnesota Christmas #2)
I've got a thing for holiday stories and this one is one of the best I've read. I grew up in a small town in Wisconsin, the small town Minnesota setting in this story feels like home to me. Arthur and Gabriel's instant hate for each other is understandable and believable.  Their blistering hot sex and their complementary kinks makes you root for them to figure out how to make things work.  Add in an over-bearing mom who means well and a story that champions libraries and their place in our world… Just writing this blurb makes me want to go read it again!
The Year We Fell Down by Sarina Bowen (The Ivy Years #1)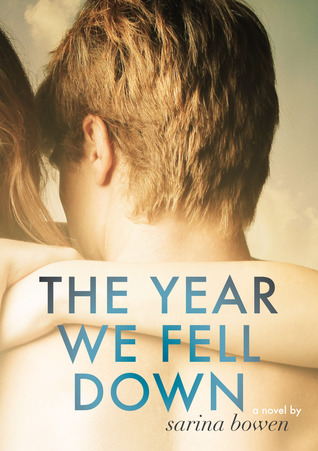 I heard a lot of hype about how good this book was, but was hesitant to read it because I'm generally not a fan of romance between younger characters. In this case the story lived up to the hype and the characters' ages didn't bother me. Former high school hockey star Corey has been unable to use her legs for about one year when she starts her freshman year at this fictitional Ivy League college.  She is assigned to a room in the "gimp dorm," the only dorm on campus that is wheelchair accessible.  Across the hall from her is Hartley, star hockey player sitting out a year due to a broken leg.  They start off as friends who understand each other and things grow from there.  This worked for me on every level!
Poster Boy by Anne Tenino (Theta Alpha Gamma #5)
In 2013 I read Anne Tenino's Theta Alpha Gamma series and loved it. Poster Boy is the latest installment and takes the TAG men to France for a semester abroad.  Jock, who transferred from another college after being outed over social media and thrown off the hockey team.  He joins TAG where his over protective big brother is a member.  He's interested in Toby and jumps right into bed with him.  He happily walks away the next day, leaving Toby with some bruised feelings.  Now they're stuck together in France with some less mature frat bros to watch over and plenty of time to work things out.  It's a great story and the TAG men are hilarious in every way!
Fanning the Flames by Victoria Dahl (Jackson Girls' Night Out #0.5)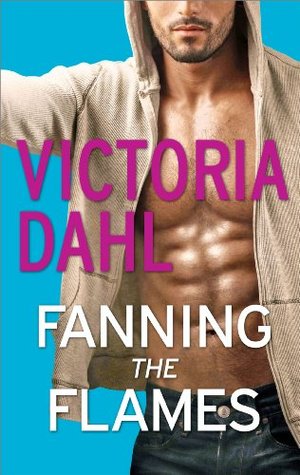 This novella is pretty much a perfect novella. Jake is a fire chief and Lauren is a librarian. They've both got grown children and a mutual attraction they haven't acted on. It's hot and includes a "caught in the act" scene that cracked me up!  I created an All Time Favorite Novella list just so I could add this one to it!
Love Lessons by Heidi Cullinan (Love Lessons #1)
So, I've mentioned that I'm a bit gun shy of New Adult romances, but I learned that year that Anne Tenino's college boys worked for me, so I decided to give Heidi Cullinan's college boys a try, too. Walter is the gay Big Man on Campus – popular with everyone and hooked up with most of the willing male population. He looks forward to the fresh meat coming in with the freshman class.  Kelly has just come out as a gay man and is looking forward to life on campus.  He's pretty naïve and cute and he's been assigned to be Walter's roommate.  Walter would so be willing to introduce Kelly to all the fun and sex he's been missing, but Kelly's looking for a Disney style happily ever after and he's got no interest in hooking up with Walter.  Watching these two work things out is exactly why I read romance!
Fever Pitch by Heidi Cullinan (Love Lessons #2)
As much as I loved so many other books I read this year, Fever Pitch stands out as the best of the bunch for me. It's the only one I went back to reread. (I rarely reread.)  It's one I thought about a lot with a silly grin on my face.  The writing is great, and obviously that worked for me, but what I really enjoyed was the acapella group and music department setting!  It's a blend of Pitch Perfect and Glee in a m/m romance form and I loved it!  The two freshman in this story have a romance that's enjoyable to read, but even better is their coming of age stories.  When you find an author who can balance the romance and the growing up at the same time?  Well that makes for a great read, and my favorite book of the year, Fever Pitch!
If you're curious, here, in alphabetical order, are the 28 stories I tagged Best of 2014,  either here or on Goodreads.  (And, yes, you'd think I would have been consistent, but I did find some tagged only here or only there.)
Books I Tagged Best of 2014
Bad Company by K.A. Mitchell (Bad in Baltimore #1)
Bad Boyfriend by K.A. Mitchell (Bad in Baltimore #2)
Because I Can by Tamara Morgan (Montgomery Manor #3)
The Best Kind of Trouble by Lauren Dane (The Hurley Boys #1)
Beyond Addiction by Kit Rocha (Beyond #5)
Caught by J.L. Merrow (The Shamwood Tales #1)
Eleanor & Park by Rainbow Rowell
Fanning the Flames by Victoria Dahl (Jackson Girls' Night Out #0.5)
Fever Pitch by Heidi Cullinan (Love Lessons #2)
Her Kind of Trouble by Sarah Mayberry
How to Train Your Dom in 5 Easy Steps by Josephine Myles
Improper Proposals by Juliana Ross (Improper #3)
It's In His Kiss by Jill Shalvis (Lucky Harbor #10)
Live by Mary Ann Rivers (Burnside #1)
Love Lessons by Heidi Cullinan (Love Lessons #1)
Marked (Anthology)
More Than Anything by T.T. Kove
Motorcycle Man by Kristen Ashley (Dream Man #4)
Night Broken by Patricia Briggs (mercy Thompson #8)
November Rain by Daisy Harris (Fire & Rain #4)
Poster Boy by Anne Tenino (Theta Alpha Gamma #5)
The Rosie Project by Graeme Simsion
Sleigh Ride by Heidi Cullinan (Minnesota Christmas #2)
Static by L.A. Witt
Taken with You by Shannon Stacey (Kowalski Family #8)
Then Came You by Jill Shalvis (Animal Magnetism #5)
Tigerland by Sean Kennedy (Tigers and Devils #2)
The Year We Fell Down by Sarina Bowen (The Ivy Years #1)
Thanks for reading this article and for visiting the blog.  I'd love to hear about your favorite book (or books!) of 2014 in the comments!