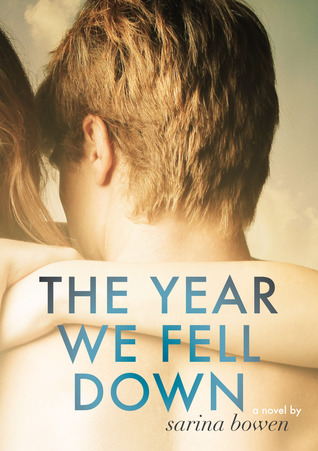 Grade: A
Hotness Level: Ember
Kink Level: No Kink
Genre: Contemporary, New Adult
Series: The Ivy Years #1
Published: 3/24/14
Reviewed by Anne
193 pages
Corey should have been starting college on the hockey team.  Instead she's starting in a wheelchair, hoping she might walk again some day, knowing the hockey is not in her future.  Her wheelchair means she's been placed in the sparsely populated "gimp dorm" instead of one of the many large and not-handicapped-friendly dorms most freshman stay in.  Luckily for her, she got assigned an awesome random roommate, and the guy across the hall is Adam Hartley.
Hartley is a hockey player whose having a year off from the sport after breaking his leg in two places.  He and Corey become good friends as they limp and roll around campus.  They help each other work through issues big and small and start to wonder if their friendship might turn into something more.  Hartley doesn't feel ready to leave his high class girl friend, yet, though, and Corey feels like Hartley is way out of her league.
Let me start by saying, in general, I don't read New Adult books, and this is one.  I heard some good buzz, and specifically read a review by Jane at DearAuthor.com and decided to give this story a try.  I'm so glad I did!
My main complaints against New Adult romance in general are 1.) too much angst  2.) my inability to relate to characters.  I found Corey and Hartley to be relatable, and for all their issues, they were surprisingly low angst characters.  It certainly takes place in college, and in a college atmosphere.  It's socially nothing like my geek experience was, but I know a lot of people who had experiences like those in the story, so that's believable to me.
Corey is such a strong character.  She's not perfect, and she makes some poor choices, but her attitude toward life is one of soldiering on.  She doesn't just hope that better days are coming, but she makes the most of where she is right now.  Hartley is pretty messed up emotionally, and his friendship with Corey helps him to see things more clearly.
Without ruining things, I want to say that when Corey hits a major sad point in her life, I was impressed with how she handled things.  She made choices to improve her life.  She mourned her losses, and with the help of her friends, she moved on.  That kind of maturity was very relatable.
I also felt like the author did a great job explaining why Hartley was making the choices he was.  You could feel his confusion that his choices weren't leading him toward happiness, and see him struggle to make changes that would.
I highly recommend this book.  It's got great characters and a wonderful story.  It's going on my best of 2014 list!  In fact, it might be the best book I've read this year so far.  How about you?  What's your best book so far?