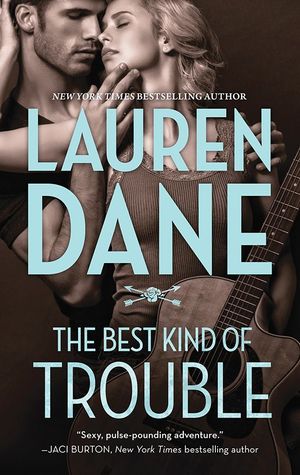 Grade: A-
Hotness Level: Inferno
Kink Level: No Kink
Genre: Contemporary
Series: The Hurley Boys #1
Published: 8/26/14
Reviewed by Anne
Natalie is a small town librarian.  One morning in the coffee shop she sees international rock star, Patrick (Paddy) Hurley.  Natalie and Patrick had a two week fling long ago before Patrick's band hit it big, and Natalie remembers it fondly.  However, she's made a lot of changes in her life since then, and she's not interested in the chaos she's sure Paddy will bring with him.   Paddy is very interested in her, though, and he really wants another chance to explore the explosive chemistry they had years ago and to see what Natalie is like now.
Lauren Dane writes in a style I love.  I call it low conflict romance.  It's stories that are focused on the relationship between characters more than the actions occurring around them.  I have friends who find this kind of story a little slow or boring, but it really, really works for me.  The Best Kind of Trouble is a perfect example of this.  The book takes place over about a year, hitting all the major turning points and milestones in their relationship.
Natalie and Paddy were interesting characters – definitely not generic romance characters.  Natalie had a history that left her with a lot of triggers.  She works hard to deal with them, but knows she can't get rid of them all together, she has to learn to live with them.  Figuring out how much of this information she is willing to share with Paddy is a huge challenge for her.  She feels like her triggers are her burden to bear and doesn't want special treatment from him, but leaving him in the dark about her issues makes her seem irrational.  It also means they are both blindsided now and then when things pop up.
Paddy has fewer issues than Natalie, but he's far from perfect.  He's got a rock star history and a large loving family that Natalie with have to get used to.  His creative lifestyle is much more chaotic than she's used to, and that's a challenge for her, too.
Watching these two work through their issues together kept me enthralled.  The sex was hot and dirty, too, which is a major bonus – and pretty much guaranteed in Lauren Dane's writing!  There was also a nice amount of humor – generally between Paddy and his brothers/bandmates.
The only issue I had with the book was feeling like Paddy's triggers were a bit silly, especially compared to Natalie's.  I was satisfied with the way things worked out, though.
There was some set up in this book for the other two book in this series – I can't wait!
This book is the first in the Hurley Boys series, and it would stand on its own just fine.  However, it is the latest installment in a series of series, starting with the Brown Siblings and continuing with the Delicious Series, and now with The Hurley Boys.  There are only a few references to any of the previous books, but I do highly recommend you read them if you enjoy this one.  In particular, Lush is the story of Paddy's brother Damien and his wife, Mary.
So, this book is going on my Best of 2014 list.  How about you?  Do you enjoy a low-conflict relationship focused book, or do you like story with more plot and adventure?