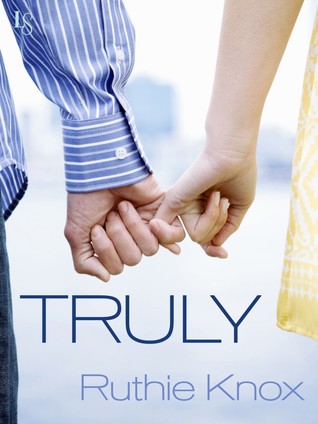 Grade: A-
Hotness Level: Blaze
Kink Level: No Kink
Genre: Contemporary
Series: New York #1
Published: 8/5/14
Reviewed by Anne
315 pages
Wisconsin girl May is stranded in New York.  She very publicly rejected her boyfriend, Dan, when he proposed, then managed to dump him in private, leave his apartment, and get mugged on her way to the airport.  She doesn't want to reach out to Dan to help her out, so she's nursing a beer she bought with her last $5 in a Packers bar.  She's hoping to find a friendly person who might help her out.  Instead she finds Ben.
"When she'd tried to catch his eye, venturing a friendly smile in his direction, he'd pulled a paperback book out of his back pocket and propped an elbow on the bar between them.
Do not disturb, that elbow said.
And also, just possibly, I am a dick." p. 7
Ben is coming off of a really horrible, angry year.  In an attempt to convince himself there is a little bit of him that can pretend to be polite, he eventually stops ignoring May and offers to help her out.
There was so much to love about this book!  First and foremost, May was a woman from Wisconsin, with deep Wisconsin roots, and I found I identified with her a lot.  Not in personality as much as some of the things that shaped her.  The need to be polite.  The ability to hold her liquor.  (Ok, actually I've never had that ability, but it is something that most Wisconsinites I know possess.)  The love of the Packers.
I give bonus points to this story because May's dad is an engineer at a nuclear power plant!  I used to work at a nuclear power plant and it's something you rarely see mentioned in a romance!  It wasn't a big part of the story at all, but just the mention made me grin!  Also, May's ex was a quarter back for the Packers!  That was awesome, and knowing what a star that would make him in Wisconsin (even after he got traded to New York) made it very believable that May's family would think he was perfect for her – it would be like dating a prince!
May has a lot of insecurities, but they are not crippling.  She becomes more and more self aware throughout the book and shakes herself out of behaviors that are driven by her insecurities.  That was really wonderful to read!  Ben was also an interesting character.  He'd been so angry for so long, he really had to put forth an effort to behave in a civil manner.  He and May really help each other, but the changes they make are for themselves, not to try to impress each other.
May and Ben each have some issues with their parents, and those relationships were very well written.  No one was made out to be just a villain.  Most importantly to me, while progress was made in these relationships, nothing was neat and tied up with a bow.  It was about May and Ben changing to meet the challenges in their lives, not magical improvement for every character in the book.
I really enjoyed May's sister and their relationship.  I see on Goodreads that there will be another story coming out in 2015, and I really hope it's about May's sister!  I wouldn't say no to a story about Dan, either, though!
This was originally published as a serial on Wattpad, an app I downloaded on my iPad just to read this book.  But then I never read it.  I'm not crazy about serials, and in this case I'm really glad I waited until I had the whole thing.  I highly recommend this story to anyone who likes contemporary romance.  It was a great read!  Let me know if you can recommend another romance with a character from Wisconsin!